So today I did not know what to write about! pretty common right? anyways I came across this awesome blog That had a bunch of Memes for Tuesday! What a cool way to find other neat blogs and meet tons of new people, so this one from 5 minutes for books.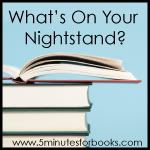 I only have one book on my nightstand right now. I am about half way threw it and loving it. here is the picture of it on my side table I was too lazy to go upstairs and take a picture of it my night stand and it's way messy anyways.

The Help
by Kathryn Stockett
I loved this book the minute I started reading it. I love the Dialogue and learning about this Tumultuous time in Mississippi in the 1960's When African Americans were still being treated so terribly. The thought that pops into my mind so often as I read this book. Is that this was not that long ago!! So Crazy to think about. I am about half way through it and really enjoying it.
I thought I would add a few books I have read recently and Loved also
Book of a Thousand Days
By Shannon Hale
I love this Author! She is from Utah which makes me hope I'll run into her while grocery shopping or something lol probably not, Utah is big. but that would be cool! She is also pregnant with twins I read which a feat in itself is amazing!
This book is such a great story I love the way that as your read your reading entries from a journal that tell a complete story. Quick read and so worth it!
Last one that I loved that was also set in a historic time
The Guernsey Literary and Potato Peel Pie Society
By Mary Anne Shaffer and Annie Barrows
Such a good book! I loved learning about this area I had never heard of before. So interesting. Ya know how when your eating a really good dessert and your sad when your almost to the last bite. I felt this way with this book. I wanted to know what happened next with the characters.
So there ya have it!!
if you have any must reads. Let me know!! There is nothing like a good book! My husband and kids would disagree every time i get into a book I ignore everything else!! I am trying to be better!